Dec

21
Tags
Related Posts
Share This
Wins Guinness World Record for Largest Afro!! Former BGLH Style Icon Aevin Dugas.
At the age of 11 years old Aevin Dugas got her first perm. she would constantly nag plead and beg her mother to let her do it. But not long after getting the goop on her head, it was clear things weren't working as planned for this Louisiana native.
Instead of leaving her with a silky-straight mane, the perm left the locks that once coiled down her back shriveled, broken and pitiful at the nape of her neck.
she got another perm not more than a year after the incident, but unannounced this time, things turned out much worse.
"I had a deep chemical burn across my whole head," Dugas said.
"The chemicals ate through my scalp. My whole head was a scab. It was like a helmet."
A Medical intervention was needed so Dugas eventually sort to seek treatment from a dermatologist who would inject medicine into her scalp stimulating hair growth. From that day Hence Forth She swore of Chemicals, and what would you know Powerful DO!!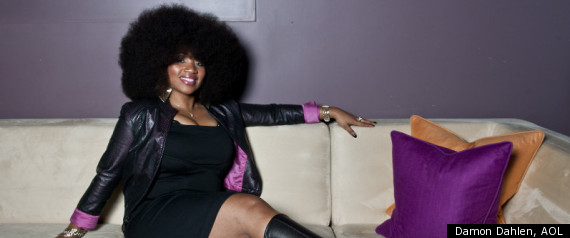 In the more than 12 years since she's been off the stuff, her Afro has grown to an astounding 4 feet 4 inches around, a world record.
"It's always getting caught in trees, and one time I even slammed my hair in the car door! And I hate it when people touch it without asking my permission first!" , she admits.
However Aevin has no regrets over her choice of hairstyle:
"As a woman you're told that straight hair is beautiful hair. This is crazy. The afro is my natural hairstyle and there can't be anything more beautiful than that".
Aevin trims her afro three times a year, and uses up to five conditioners at once when she washes it.
"You want to know the best thing about my hair?" Aevin says with a smile: "It provides the perfect pillow. I sleep very well."
The hair is larger than a disco ball! Aevin's hairstyle is so large she could fit the world's shortest man inside!